Gus Solomons, Jr.
Dancer, choreographer, dance critic, and actor
Artistic Director, PARADIGM DANCE
Founder, Solomons Company/Dance
MLK Visiting Scholar 2002-2003 (two-week visit, September 2002)
Hosted by Music and Theater Arts
Bio
Gus Solomons, Jr. is an accomplished dancer, choreographer, dance critic, and actor. His research interests include: postmodern and experimental dance; dance criticism. 
Solomons holds a BA in Architecture (1961) from MIT. Throughout his time at the Institute he was very involved in Tech Show and Dramashop productions. He began dance lessons while attending MIT, and his first teacher was E. Virginia Williams, founder of the Boston Ballet Company.
Upon graduation from MIT, Solomons moved to New York City, where he worked to find new experimental forms of dance by deconstructing learned structures. He performed as a soloist with the companies of Pearl Lang, Donald McKayle, Joyce Trisler, Paul Sanasardo, and Martha Graham, and Merce Cunningham.
In 1971, Solomons formed the Solomons Company/Dance, for which he created more than 100 dances.  
Solomons' teaching experience is extensive. He was choreographic mentor at Dance New Amsterdam for three years. From 1994 to 2013, he served as Arts Professor (now retired) at the New York University Tisch School for the Arts.  Courses he taught included: modern dance technique, improvisation and dance composition, creative research in dance (composition and improvisation), choreographic mentoring, and creating choreography for students.
Choreography by Solomons has been performed by the Alvin Ailey Repertory Ensemble and the Berkshire Ballet. Since 2012, Solomons has been a mentor at Alvin Ailey American Dance Theater's ChoreoLab Inititative. Solomons is also Artistic Director of PARADIGM DANCE, a company he co-founded with Dudley Williams and Carmen de Lavallade in 1988 "to present the eloquence of older dancers onstage in repertory appropriate to their gifts and in dances created by mostly younger choreographers".
As early as 1980, Solomons began to write exceptionally lucid dance criticism. He continues to write for Ballet News, InStep, Dance Magazine, Chronicle for Higher Education, the Village Voice, the New York Times, and he has contributed to several books on dance.
In addition to teaching, touring, guest-performing and lecturing, Solomons serves frequently as an adjudicator and dance panelist for various state arts councils, artistic advisory boards and foundations, including the National Endowment for the Arts. He won a "Bessie" (New York Dance and Performance Award) for Sustained Achievement in Choreography. ​
In 2000, MIT awarded Solomons its first annual Robert A. Muh Award, which honors a distinguished alumnus for noteworthy contributions in a School of Humanities, Arts, and Social Sciences field.
Solomons returned to MIT during September of 2002 as an MLK Visiting Scholar hosted by Music and Theater Arts. He worked with students in the MIT Dance Theater Ensemble to create "Crowd." (title includes period), a new environmental work.  For this intense residency, Solomons decided to make the work as an "installation" in the space of the Architecture Library itself. The 10-member ensemble performed "Crowd." in September and December of 2002 to an original musical score composed and performed by Brian Robison, assistant professor of music.  
Video
At MIT
Family History
Solomons' father, Gus Solomons, Sr. (left), graduated from MIT in 1928. About his older son's artistic inclinations, he imposed graduation from MIT, "just in case". About his father attending MIT, Solomons, Jr. said, "[H]e belonged there. He was smart enough to be there. I guess it was unusual then because he was so rare, being a black person. I was there by accident. I was there by accident...I did Tech shows forever." (From Technology and the Dream by C. Williams.) Solomons' younger brother, Dr. Noel W. Solomons (right) served as an Associate Professor of Clinical Nutrition at MIT from 1977 to 1984. 
---
Images
MIT Museum catalog card (right) depicts dancer and architecture student Gus Solomons '61 photographed by electrical engineering professor Harold Edgerton with stroboscopic camera, February 1960. Courtesy MIT Museum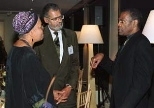 Gus Solomons, Jr. (right), winner of the Muh Award, with Professor Emeritus Willard R. Johnson of political science (center) and Mrs. Johnson during the SHASS gala at the Museum of Fine Arts, October 2000. Photo: Laura Wulf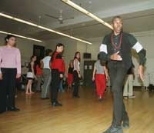 Gus Solomons, Jr. with MIT students, 25 September 2002. Photo: Justin Allardyce Knight / MIT News 
Gus Solomons, Jr. with MIT students, September 2002. Source: MIT Music and Theater Arts
---
MIT Publications
"Gustave M. Solomons, Jr.: Reflections on the Black Experience at MIT." Technology and the Dream by Clarence G. Williams (MIT Press, 2001).
The Tech (1956-1968)
Dramashop Presents Beckett Plays (10/9/59)
Drama Shop Plays Being Prepared (9/29/59)
another comment on tech show (3/6/59)
tech show 1959: The Sky's the Limit (3/3/59)
Go Tech Show (2/17/59)
Tech Show 59 To Present Musical Spy Comedy, "Spy's the Limit", February 26 (1/13/59)
Reviews: The Alchemist (12/12/58)
Tech Show 1958 (3/4/58)
Tech Show Opens Friday, February 28, Knee And Solomons Have Starring Roles (2/28/58)
The Story Dante Never Dared 10 Tell Is Subject Of Lavish Tech Show Musical: 'Out on a Limbo' (1/21/58)
"…romantically like Sam Spade…" (2/26/57)
'57 Tech Show Presents "The of Honor A Bum"; Vassar Engagement Forthcoming; Solomons Stars (2/12/57)
standing room only: "Djinn and Bitters," Tech Show '56 (3/6/56)
Ancestry Of Tech Show Reviewed; Past Includes Minstrel, Variety, Ballet (3/2/56)
Alumnus to be featured in first stereo telecast (12/3/68)
Dramashop Presents Shaw Plays; Everingham Directs Production (5/3/61)
Pacifists Fight Militarists in Tech Show (3/3/61)
Gus Solomons '61 Featured Dancer In "Dance'61" Program (1/6/61)
Many Activities, New and Old, Highlight Second…(5/24/60)
Gus Solomons Jr., Architect or Dancer? (5/6/60)
Drama Shop's "Othello" Is Excellent (4/29/60)
"OTHELLO" To Open Next Wednesday (4/22/60)
International Week Ends Saturday Dance Show Last of Activities (3/15/60)
Dramashop Slates Try-outs, Future Productions (3/4/60)
Let's Put "Tech" in "Tech Show"... (3/1/60)
Tech Show To Have 18 Numbers (2/19/60)
Tech Show 1960 Opens Late February (1/12/60)
MIT News (2000-2002)
4 new MLK Visiting Professors named (11/19/02)
Choreographer Solomons creates new work for MIT students (9/25/02)
Work with MIT Dance Theater Ensemble – 9/2002
Alumnus choreographer Solomons leads students in dance – MIT News (3/8/01)
Gus Solomons is first winner of HASS award (2/28/01)
Solomons wins Muh Award for his dance - MIT News (10/18/00)