Recalling MLK's Time in Cambridge
Recalling MLK's Time in Cambridge
Slice of MIT | January 22 2019
While King never made a public appearance at MIT, he was a common visitor to Cambridge from the 1950s—when he was a doctoral student at Boston University—until the mid-1960s.
According to a January 2013 article in the Harvard Gazette, King took philosophy courses at Harvard in 1952 and 1953 and he was a guest preacher at Harvard's Memorial Church in 1959 and 1960. He delivered a lecture titled "The Future of Integration" at Harvard Law School in 1962 and spoke at Memorial Church and Cambridge Rindge and Latin School on the same day in January 1965.
King's name appears regularly in issues of The Tech in the 1960s, including: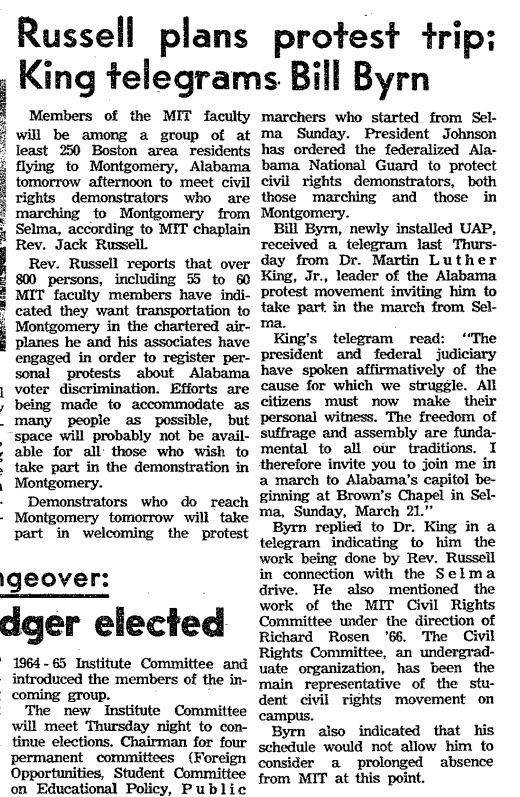 After his assassination on April 4, 1968, the front pages of The Tech's preceding two issues were dedicated to King and articles included "Faculty, students consider role of MIT in race problems" and "(Professor Harold) Isaacs cites racism in murder."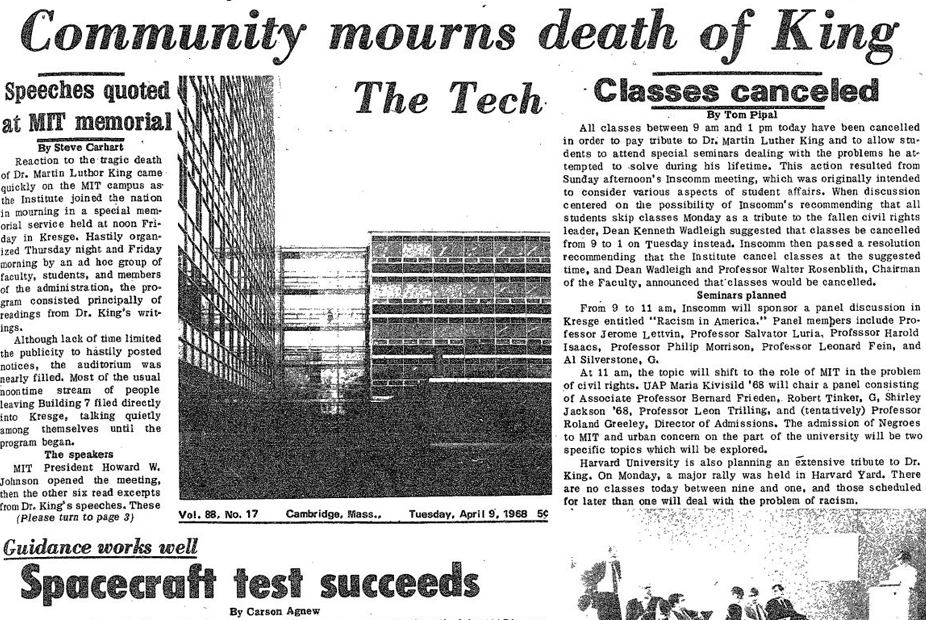 The archives at the King Center museum also include two letters to King from the MIT/Harvard Joint Center for Urban Studies that discuss the center's Social Statistics in the City conference that took place in June 1967.
According to a video by MIT Productions, King's death directly led to, among other endeavors, the formation of the MIT Black Students' Union and the creation of Interphase (now Interphase EDGE), a seven-week summer program that prepared incoming students for the rigors of MIT.
For more information on King's legacy at MIT, which includes the MLK Visiting Professors and Scholars Program, the MLK-Inspired IAP Design Seminar, and the MLK Leadership Award, visit diversity.mit.edu.
Top image: View from Killian Court of MLK Design Seminar Exhibit in Lobby 10, 2002. Courtesy: MLK at MIT