The Laboratory's Diversity and Inclusion Office works to recruit the best technical and support talent from a diverse national pool of candidates, foster a work environment built on trust and inclusion, and adapt training and development approaches to ensure the professional growth of the Laboratory's diverse staff.
LEAN
The Lincoln Employees' African American Network (LEAN) addresses the concerns and issues faced by African American employees and prospective candidates. LEAN has hosted and participated in a wide range of events. These events include recruiting efforts, community outreach, professional development seminars, and external networking opportunities.
Inaugural Annual Martin Luther King Jr. Celebration Breakfast
MIT Lincoln Laboratory Annual Report 2014
On 27 January [2014], Lincoln Laboratory held its first annual Martin Luther King, Jr. Breakfast at the Minuteman Commons Community Center on Hanscom Air Force Base. Hosted by [LEAN], the event gathered more than 200 attendees and raised awareness within the Laboratory community of MLK's long-lasting impact to the nation and of the progress yet to be made in the realm of civil rights. This year's theme, "Lead by Example," encouraged attendees to share in MLK's dream by working toward ensuring that laws enacted to guarantee equality are actually implemented. Following opening remarks from Director Eric D. Evans, former division head Dr. Wade M. Kornegay, the first African American division head at Lincoln Laboratory, offered his "lessons learned." Dr. Percy A. Pierre, Vice President Emeritus and Professor of Electrical and Computer Engineering at Michigan State University and the first African American to earn a doctorate in electrical engineering in the United States, delivered the keynote address. He traced the historical roots of the African American Civil Rights Movement, shared some of the educational and employment inequalities he faced while growing up in 1950s New Orleans, and urged the continued progress toward equality for all.

Percy Pierre delivers the keynote address at the Laboratory's inaugural Martin Luther King, Jr. Breakfast, 27 Jan 2014.
---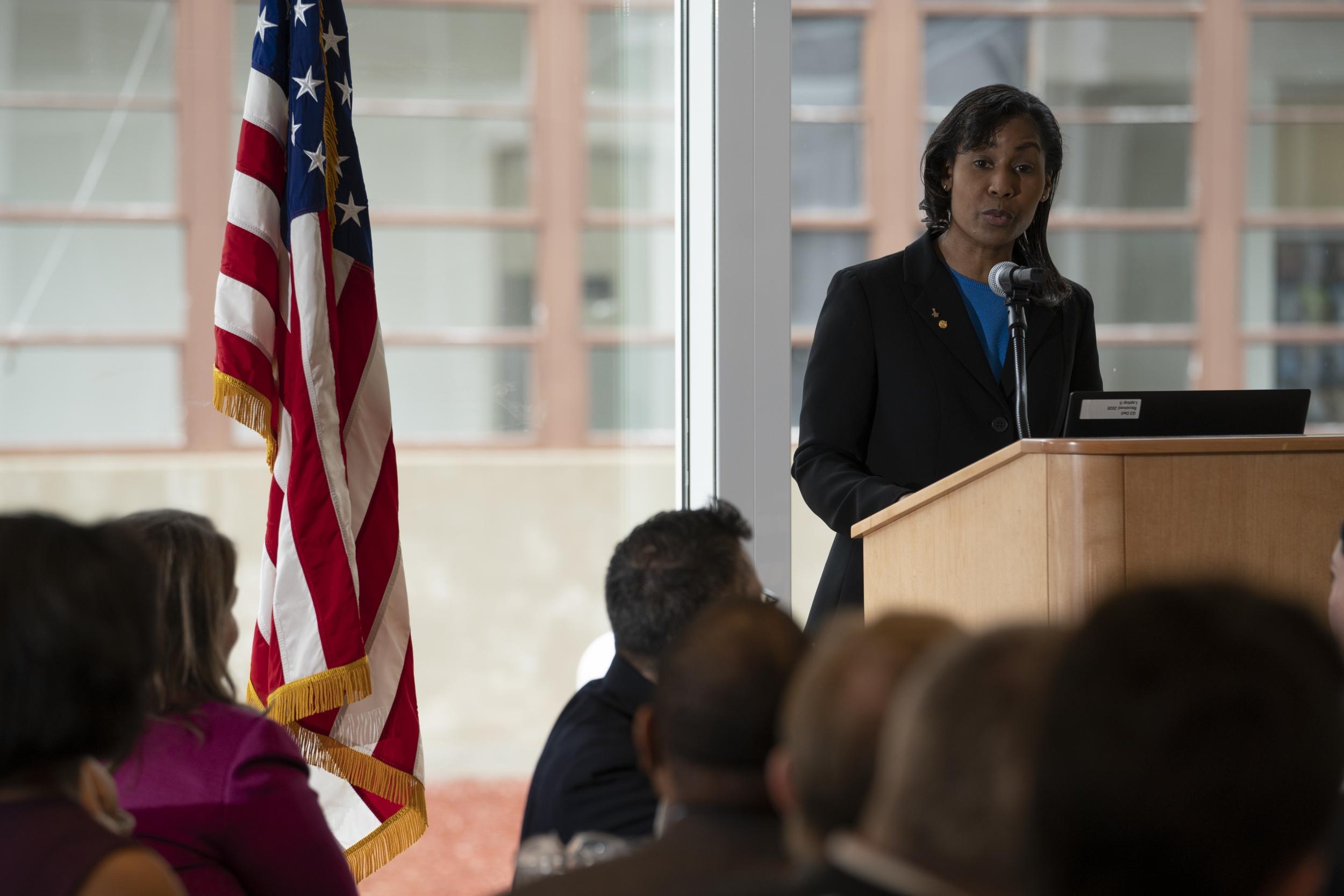 NASA Astronaut Stephanie Wilson, keynote speaker at Lincoln Laboratory's Martin Luther King Jr. Luncheon, 16 Feb 2020.
Lincoln Laboratory staff gathered to hear NASA astronaut Stephanie Wilson speak about her career during the seventh annual Martin Luther King Jr. Luncheon. The luncheon is hosted by the Lincoln Employees' African-American Network (LEAN) each February during Black History Month.
The theme governing this year's luncheon was "Fostering Strong, Moral, and Courageous Leadership." It was inspired by Dr. King's "Give Us the Ballot" speech that he delivered during the Prayer Pilgrimage for Freedom in Washington, D.C., in 1957. In this speech, Dr. King urged the federal government to ensure voting rights for African Americans, who, although guaranteed the right to vote under the 15th and 19th Amendments, faced discriminatory barriers at the state and local levels that prevented many people from exercising their right
...
"It's the people that surround us and give us encouragement who help us to achieve our dreams," [Wilson] said. Wilson added that every person has walked a different road to get to where they are, and that we all "should endeavor to make sure that everyone in STEM [science, technology, engineering, and mathematics] has a better opportunity than we had."