2015 41st Annual Dr. Martin Luther King Jr. Celebration
2015 41st Annual Dr. Martin Luther King Jr. Celebration
Theme
iActivism: Individuals Empowering the Collective
Keynote
President, MIT (2012-present)
Inspiration
Posters appear around campus in reaction to the Ferguson, Missouri, shooting of Michael Brown on Aug 9, 2014. Photo: Alexander C. Bost, The Tech, 2015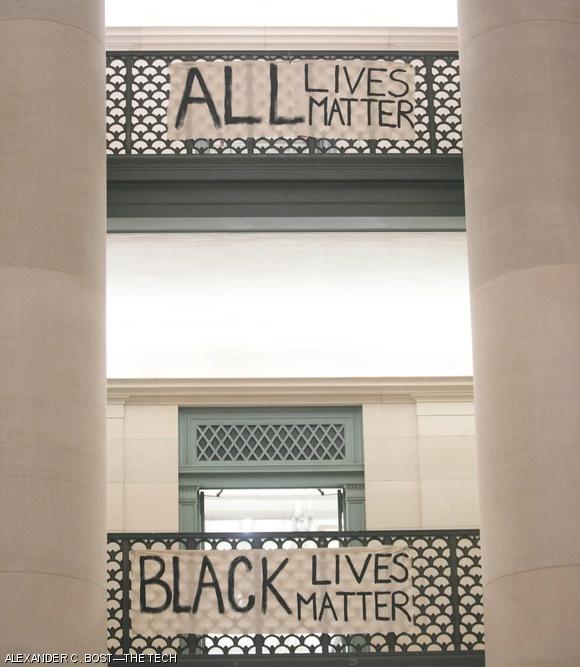 ---
Referring to demonstrations outside MIT's Winterfest last December, in the wake of several police killings of unarmed black men, [MIT President L. Rafael] Reif said, "I found the protestors' silence intensely moving, and impossible to forget. Listening to that silence, I heard pain, and outrage, a deep moral purpose, a refusal to accept injustice, and the conviction that, as Americans, we must insist on fair and equal treatment for everyone." 
Press
Annual gathering reflects frustration over racial profiling, calls for more involvement by MIT community.
David L. Chandler | MIT News Office, February 5, 2015
In an MIT tradition that goes back 41 years, hundreds of members of the Institute community gathered Wednesday for a luncheon to honor the memory of Martin Luther King Jr., with talks reflecting on the need for greater inclusion and communication — both on campus and in the world at large.
The theme of this year's event — "iActivism: Individuals Empowering the Collective" — figured in remarks by several students, President L. Rafael Reif, and recipients of the Institute's annual Dr. Martin Luther King Jr. Leadership Awards. The speakers discussed their own experiences and shared their thoughts on actions that members of the MIT community could take to advance the goals of inclusion and equity.
Even though the event's planned keynote speaker, Indian-American activist Rinku Sen, was unable to attend because of this week's snowstorm, the luncheon featured a full lineup of speakers who gave accounts, often heartfelt, of their own encounters with prejudicial attitudes.
"I love this university," said Nick Davis, a doctoral student in biological engineering. "I seek to do all that I can during my graduate tenure here to enhance the MIT experience for all student, staff, and faculty members of this unique community."
But, he added, "At times it can be incredibly difficult to be a black male in America. It is troubling to have all the potential in the world, and yet be reduced to an image constructed and promoted by the media; an image that — no matter how grotesque, sordid, unfair — can seem inescapable."
5th Annual Institute Diversity Summit
The 2015 Institute Diversity Summit continues to build upon its tradition of educating the MIT community and providing opportunities to discuss this important topic in a candid and thought-provoking manner.
The summit took place over two days, with participation of MIT's senior leadership in panels and presentations, as well as a series of workshops involving the MIT community.
Exhibit
Poster